What if you could trust your ability to take excellent care of yourself, and feel beautiful, healthy, accomplished, and worthy…just as you are right now?
You can. And The Body Positive's online courses can help.
Being human can be tough no matter what, but when we are disconnected from our bodies, it makes everything so much more difficult.
Our bodies have become the scapegoats that distract us from the issues in life that truly matter. We spend our valuable resources of time, energy, and intellect—not to mention money—trying to "fix" all those things we believe are "wrong" with us.
Whether you find yourself on the roller coaster ride of yo-yo dieting, or you beat yourself up because you think your body isn't "good enough" to meet societal standards of beauty and/or health, your attention is consumed with your dissatisfaction. This misdirected focus can keep you from experiencing real freedom, love, power, vitality, and connection in your life.
You might not believe us if we say that there's absolutely nothing wrong with you. So we'll tell you that the only thing wrong is that you've internalized the myths and misinformation fed to you by the people and corporations in the world who profit from your negative relationship with your body.
It's not your fault. There are formidable forces at work here.
Are you ready to learn a new way of relating to your body and food—and life—that can give you more peace, joy, and sustainable, positive self-care?
Are you ready to reconnect to the magnificent vessel that allows you to be here on the planet—your body?
We're here to support you.
After twenty years of helping people make peace with their precious bodies, we've now brought our effective and life-enhancing practices online. With the Be Body Positive Fundamentals Courses, you have the opportunity to transform your relationship with your body (and whole self) into one that is guided by love, forgiveness, and humor.
You'll learn simple, effective ways to work with your critical voice so that you can turn your fears into love and "flaws" into beauty. We'll connect you to our Body Positive community, a place that is free from judgment and shame, where you'll be honored for exactly who you are, right here, right now, even if you want to make changes with your body.
In these courses, The Body Positive's co-founders, Connie Sobczak and Elizabeth Scott, LCSW, bring the work to life through their engaging teaching and storytelling. You'll have access to videos, guided meditations, and worksheets where you can do your own self-exploration with the course material.
You'll gain tools to overcome the obstacles that block you from:
Being as kind to yourself as you are to others
Learning and growing through making "mistakes"
Developing sustainable eating and exercise habits
Trusting your intuitive wisdom to help you make choices—big and small
Having a relationship with your body and beauty that is connected to your life force
Living with more freedom, confidence, and joy—and finding humor in being human!
We're not here to promise you a quick fix—they don't exist! The promise of a perfect life is a lie told by the corporations that profit from your suffering. Even after taking our courses, life will still be life, and it will at times be painful.
But what we can tell you is that a commitment to healing your relationship with your body will make it easier to address the underlying pain and suffering that keep you stuck in unhelpful patterns. You will have renewed energy to support you in redirecting your powerful resources towards enjoying your body, helping others, and LIVING LIFE!
Your body provides a physical form for your soul. Its purpose is to keep going, no matter what you do to it. Your body wants you to live.
What do you want to express in your life? What do you want to achieve? And how does your current relationship with your body get in the way?
Take our hand. Together, we'll journey towards the life you imagined; here, now, just as you are.
Course Features
Through the videos in these courses, Connie and Elizabeth bring their warmth, humor, experience, and wisdom right into your home. Learn about the Be Body Positive Competencies, hear their personal stories, and let them guide you through the practices they have been using to help people heal from negative body image for decades.

Close your eyes and get in touch with your past, present, and future selves, connect with the earth, and uncover the roots of your struggles with your body image while Elizabeth's calm and soothing voice leads you through guided meditations.

Take your personal exploration of the Competencies to a deeper level with our brand new worksheets, which you can print and write on by hand, or type in directly and save on your computer.

Join people from all over the world in our private Be Body Positive Fundamentals Facebook group. Connect with a strong support system and share your experiences and reflections with the people you meet as you move through the courses.
"For the past few weeks I have been learning how I want to incorporate The Body Positive into my life. I'm reading the materials and am just simply blown out by the simple yet complex message to love my body. Four years in Overeaters Anonymous and I never felt included, represented, or appreciated. The Body Positive gave me importance and representation. I needed that so badly."
— Chautalee Brown
The Be Body Positive Fundamentals series is your entry into our world. The Fundamentals consist of five individual courses, one for each Competency of our Be Body Positive Model. Taking all five courses is comparable to attending an introductory workshop with The Body Positive. Dive into the Competencies of the Be Body Positive Model, and experience the full effect of addressing the challenges that prevent you from having a peaceful relationship with your body. Sign up for the full bundle and get the fifth course for free! (a savings of $27).
We offer the Fundamentals Courses and more to Master's-level therapists and registered dietitians for Continuing Education Hours. You can earn up to 28 CE hours with our innovative online courses. Learn more.
Meet Your Instructors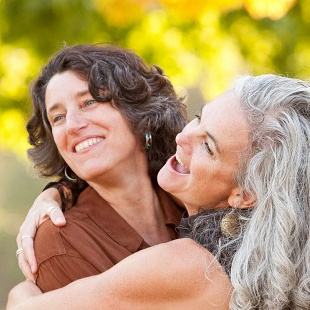 Connie Sobczak and Elizabeth Scott, LCSW, founded The Body Positive because of their shared passion to create a lively, healing community that offers freedom from suffocating societal messages that keep people in a perpetual struggle with their bodies. In 2015, Connie and Elizabeth were chosen by La Repubblica, Italy's leading newspaper, to be on their top 10 list of badass women for their role in founding The Body Positive movement.
Connie Sobczak is the author of Embody: Learning to Love Your Unique Body (and quiet that critical voice!), her book in which she brings the Competencies of the Be Body Positive Model to life, skillfully and lovingly reconnecting readers to their bodies, life force, and beauty. Connie's experience with an eating disorder in her teen years and the death of her sister Stephanie inspired her life's work to create a world where all people are free to love their bodies. She has been featured in USA Today, Media Planet, Rebellious Magazine for Women, the Lady Brain Show, the San Francisco Bay Area's local Fox news, and more. Connie's passion is watching the light that emerges when people recognize and embrace their magnificent, authentic selves.
Elizabeth Scott has practiced psychotherapy in Marin County, California for twenty-seven years, specializing in eating disorders treatment. She refined the core Competencies of the Be Body Positive Model to be appropriate for the treatment, as well as the prevention, of eating problems. Elizabeth is passionate about her work because she believes that a healthy self-image is an essential aspect of a person's development. She credits her mother Lynn, a feminist therapist, for communicating a positive message about women's bodies that allowed her to grow up with an abundance of self-love. Elizabeth's discovery of African dance as a teenager and her exploration of improvisational dance throughout her life sustain her great appreciation for her body and its capacity to express pleasure and vitality.